⚡️ Top #3 featured offers
Based on experience with dozens of HHC carts
Whether you enjoy HHC for the euphoric and energetic high it imparts or for symptom relief, stick with us as we help you find the best HHC cartridges available on the hemp market in 2023.
As you can imagine, I've tried HHC carts from dozens of brands over the years, so I speak from experience when I say that some work much better than others. Here are the best HHC carts around that I recommend you try this year.
Best HHC Cartridges: Our top 5 picks
All of the brands/cartridges that made it to our list passed certain criteria to be considered for placement. We only considered products that passed the following criteria:
Potent effects
Quality product ingredients
High quality cartridge build
Derived from organic hemp
Third party lab tests
Positive customer feedback
More on that below the product recommendations…
What is a HHC vape cart?
A HCC vape cart is a disposable vape cartridge that can be attached to a vape battery which heats and vaporizes the contents of the cartridge to be inhaled. HHC carts contain varying amounts of HHC, so it's important you check the third-party lab reports to know exactly what you're getting.
All of the HHC vape carts featured here are 510 threaded, meaning they all fit a standard 510 threaded vape battery, which can be acquired easily and affordably (for example, Binoid sells two x 510 batteries for just $20). Take a look at them here.
If you want to learn more about the effects of HHC, including what it feels like to take it and potential therapeutic effects, then check out my other article about HHC here.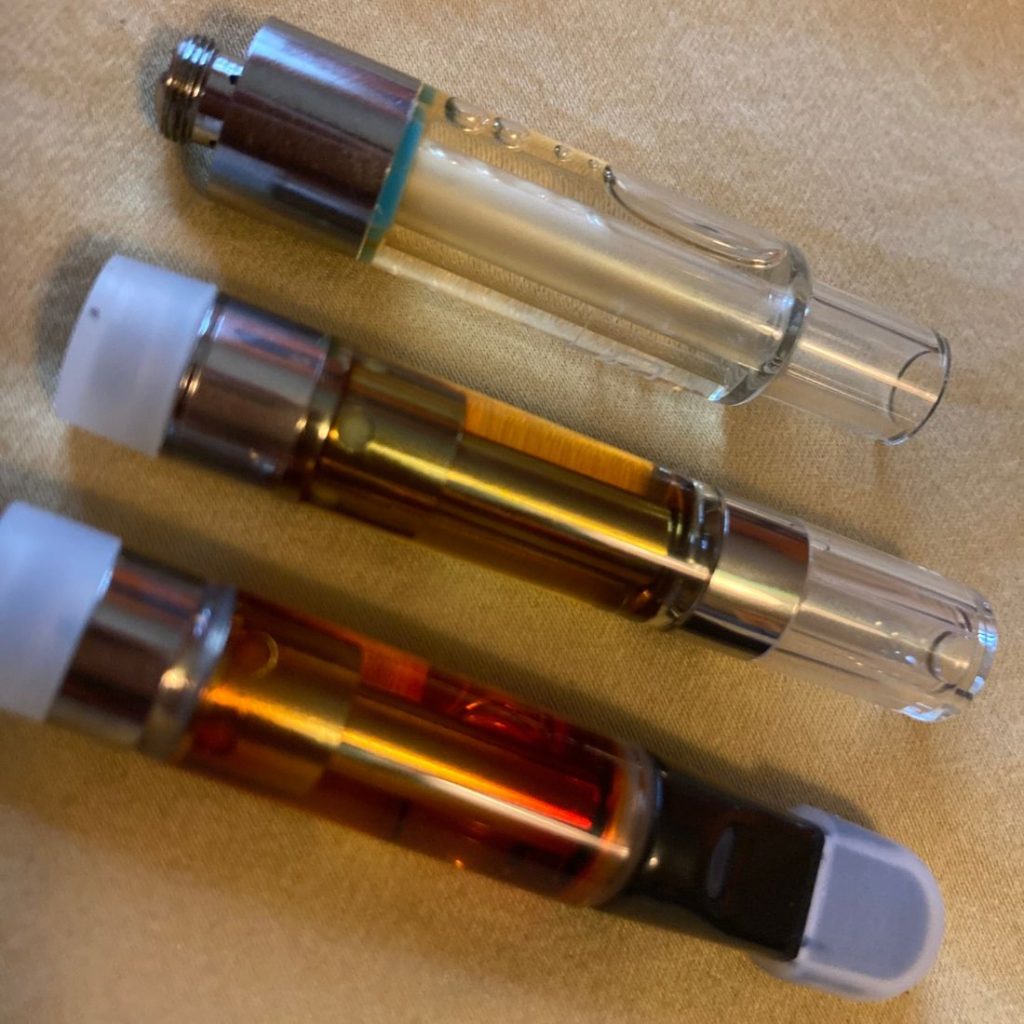 How did we choose our winners?
All of the brands/cartridges that made it to our list passed certain criteria to be considered for placement.
✅ Potent effects
All of the carts featured here have some of the most potent effects I've come across in hemp products with HHC.
✅ Quality product ingredients
We immediately discounted any HHC cartridges that contained cutting agents, artificial flavors, or other harmful ingredients. All the HHC carts here feature pure HHC distillate and natural terpenes to add flavor and thin the mixture to make it suitable for vaping. Some of the carts also include other hemp-derived cannabinoids (Delta 8 for example) to enhance the effects offered.
✅ High quality cartridge build
Have you ever had a cart stop working on you and/or clog up? It's very annoying and is usually caused by cheap hardware, so we immediately removed any poorly made carts from the competition.
✅ Derived from organic hemp
All of the carts featured are transparent about their ingredient sourcing and all of these HHC extracts can be traced back to organic hemp plant sources.
✅ Third party lab tests
All of the companies here can also produce third-party lab results verifying product potency (at the very least), but in most cases they verify the purity too (no pesticides, heavy metals, or other contaminants). I saw Delta Extrax appear in a few other "Best Of" lists but didn't even consider them for this list as, according to their third-party lab reports, their carts don't even contain any HHC, only 12% THC-O.
How Delta Extrax can make it to anyone's "best HHC cartridge" list when it doesn't contain any HHC is beyond me!
Look for third-party testing from well-known labs that have established HHC testing procedures in place (such as KCA Laboratory, Gobi Analytical, InfiniteCAL, and ACS Laboratory) and check for 9R-HHC and 9S-HHC amounts (and add them together).
Lab reports should include the product name it tested, as well as a QR code which you can double-check to ensure the lab reports aren't faked. It sounds like a lot of hassle, but this is the only way to know for sure that you're getting what you're paying for.
If you don't have the time or inclination to conduct a full HHC vape review yourself, then just use our list above as we've already done the research for you.
✅ Customer feedback
We also did some research to make sure that each company we featured receives mostly positive customer reviews from satisfied customers. For example, we omitted Diamond CBD from this list due to a large number of poor reviews on Trustpilot (regarding customer service, shipping, overcharging, and spamming).
My experience with Diamond CBD wasn't bad, but they've had too many negative customer reviews for me to feel comfortable recommending them to you. 
Will a HHC vape cart get you high?
Yes, HHC is highly intoxicating. It's estimated that HHC's psychoactive effects are only around half as potent as Delta 9 THC, but it's still a very effective high and how hard it hits you may depend on your tolerance to THC. Some people will feel high after taking just one or two puffs of a HHC cart.
Is it safe to vape HHC?
Long-term effects of vaping are still unknown, but there haven't been any adverse events recorded from vaping HHC that we know of. So long as you know exactly what's in your HHC vape cartridge, vaping HHC is likely to be safer than smoking weed as vaping doesn't produce carcinogens.
Are HHC vapes legal to buy?
Yes, hemp-derived HHC vapes are legal at federal level as long as they contain no more than 0.3% Delta 9 THC. Some states have banned Delta 8 (and other forms of THC), but HHC isn't technically a form of THC. Still, you should be careful in states that have banned THC.
States that have already banned Delta 8 include Alaska, Arizona, Arkansas, Colorado, Delaware, Idaho, Iowa, Mississippi, Montana, New York, Rhode Island, and Utah.